You may have heard of probiotics, the 'good' bacteria that live in your body and perform functions like extracting nutrients from the food you eat, regulating digestion and metabolism, supporting the immune system, and blocking harmful microbes. Recent research has linked gut health to brain health, and improving the health of your gut microbiome may lead to improvements in anxiety, depression, and even cognitive function. A healthy gut microbiome is key to both your physical and mental health.
You May Also Like:
Anti-Aging Amazing Smoothie Recipe
A probiotic smoothie is the easiest way to support gut health
You can maintain a healthy balance of bacteria in your gut by eating a fiber-rich diet that includes probiotic foods like yogurt, kombucha, kefir, miso, and pickles. You should also include prebiotic foods that encourage the growth of 'good' bacteria. Prebiotics can be found in high-fiber foods like bananas, whole grains, beans, soybeans, onions, garlic, and artichokes. You can even try probiotic supplements to support your gut health. Probiotic supplements often contain healthy doses of 'good' bacterial strains paired with prebiotics and other ingredients that balance your gut microbiome.
If all of this sounds like a lot of work, then you might like to try a probiotic smoothie that includes the right balance of healthy foods to support your gut. Probiotic smoothies are convenient, easy to make, and packed with nutrition. The best probiotic smoothie can be a delicious meal that delivers potent health benefits, and you don't need to break the bank or spend hours in the kitchen.
We've compiled 5 great probiotic smoothie recipes for you to enjoy. For an extra probiotic boost, you can add the contents of two Belly Great capsules. Belly Great is a special blend of probiotics, prebiotics, vitamin D3, and methyl folate formulated by notable wellness company, Hello Health. Belly Great supports a healthy gut, a balanced mood, healthy bones, and a strong immune system.
Probiotic smoothie
1. The Probiotic Berry Smoothie
This smoothie from Tasty is a great choice for beginners who would like a short, sweet, and simple recipe. The Greek yogurt in this elegant berry treat provides a healthy dose of probiotics, while a serving of berries provides polyphenols, fiber, and inulin. Inulin is known for its prebiotic effect.
Ingredients for 2 servings:
1 ½ cups milk
1 cup greek yogurt
1 ½ cups frozen strawberry
1 ½ cups frozen blueberry
Contents of 2 Belly Great capsules
Directions: Combine milk, yogurt, and frozen fruit in a blender and mix until consistency is smooth.
Probiotic smoothie
2. The Peach Probiotic Smoothie
This sophisticated green smoothie from Simple Green Smoothies contains gut-healthy kombucha, a popular fermented drink made with yeast, sugar, and black tea. Kombucha is rich in lactic-acid bacteria (which act as probiotics), and it is known for its sweet-and-sour taste. A nice serving of spinach will give you a dose of fiber, iron, and vitamins A, C, and K. Peaches add just the right amount of sweetness to this beverage that can be served in a glass.
Ingredients for 1 serving:
1 cup spinach
8 oz kombucha
1 ½ cups peach (frozen )
1 tablespoon coconut sugar
1 tablespoon lime (juice)
Contents of 2 Belly Great Capsules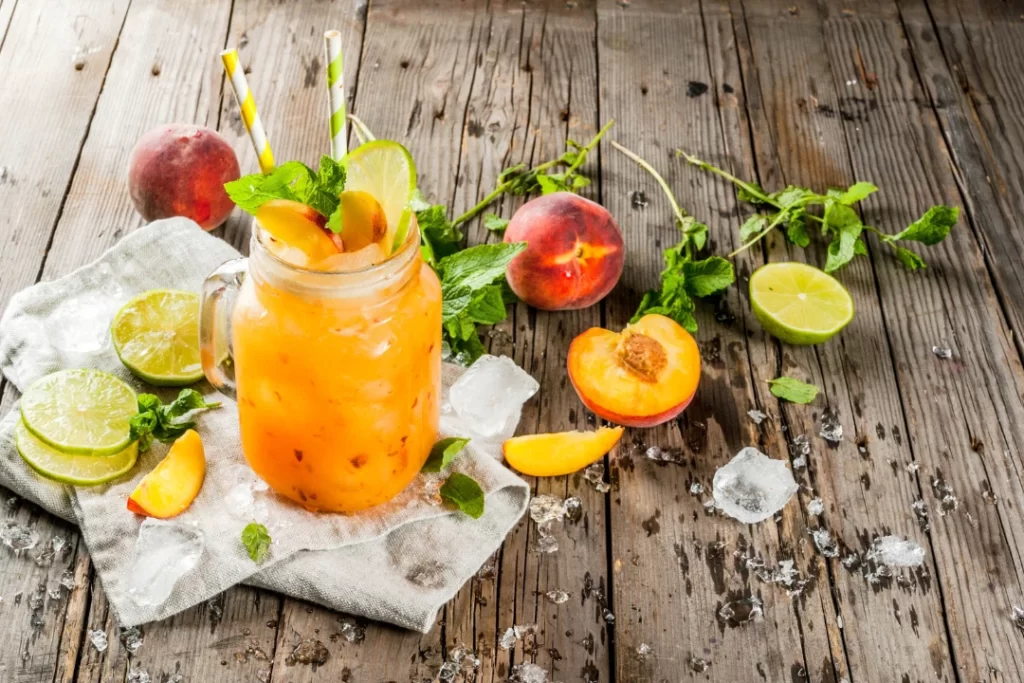 Directions: Blend the spinach and kombucha until smooth, then blend in the frozen peaches and Belly Great. Add the lime juice and coconut sugar to separate shallow bowls. Dip the rim of the glass into the lime juice, then the coconut sugar. Pour the probiotic smoothie into the glass and enjoy!
Probiotic smoothie
3. The Probiotic Berry-Almond Smoothie
This cold, protein-rich treat from Hello Glow will fill you up while it supports your gut. It includes kefir, a healthy beverage made from fermented milk that is not only packed with probiotics, but also rich in protein, calcium, vitamin B12, biotin, and phosphorus. A serving of almond butter packs a protein punch, while chia seeds promote the growth of 'good' gut bacteria.
Ingredients for 1 serving:
3/4 cup plain kefir
1 tablespoon almond butter
1/2 tablespoon chia seeds
1/2 cup raspberries
Ice
Contents of 2 Belly Great capsules
Directions: Combine all ingredients in a blender and mix until smooth.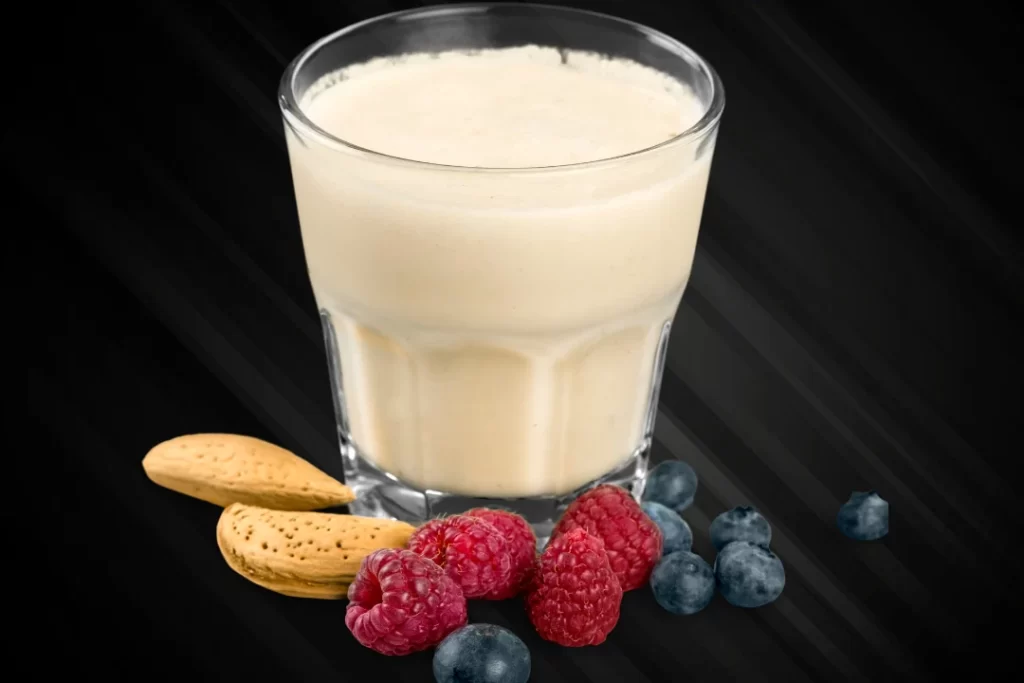 Probiotic Smoothie: 5 Great Recipes is an original (SmoothieProfessor) article.
Probiotic smoothie
4. The Cherry-Berry Probiotic Smoothie
This ultra-simple probiotic smoothie recipe from Lively Table combines the probiotic power of kefir with the nutrition of sweet cherries. Cherries contain polyphenols, potent compounds that act as prebiotics while they deliver an antioxidant effect. Cherries are also rich in calcium, fiber, and beta-carotene. You can even add your favorite protein powder to this recipe for a pre- or post-workout treat.
Ingredients for 1 serving:
½ cup plain kefir
½ cup fresh sweet cherries, pitted
1 cup frozen mixed berries
Contents of 2 Belly Great capsules
Directions: Pit the cherries. Then add all ingredients to a blender and mix until smooth, adding more kefir for a thinner consistency.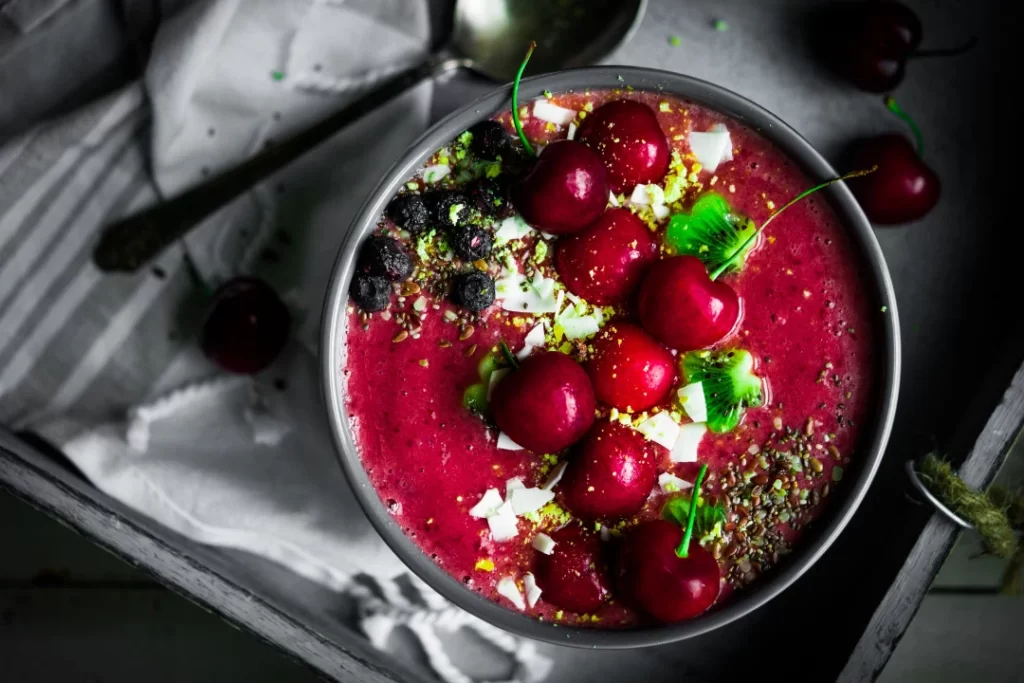 Probiotic smoothie
5. The White Smoothie
This sophisticated smoothie from CulturedFoodLife.com is a sweet variation on our other kefir smoothies that incorporates a prebiotic-rich banana and the taste of rum. Named for its creamy, white color, this healthy probiotic smoothie makes a nice holiday treat. You can make it with coconut milk for a tropical feel, or just use almond milk for an extra dose of vitamin E and calcium.
Ingredients for 1 serving:
1 banana
½ teaspoon rum vanilla extract
½ cup kefir
½ cup coconut milk – or almond milk
Contents of 2 Belly Great capsules
Directions: Combine all ingredients in a blender and mix until smooth.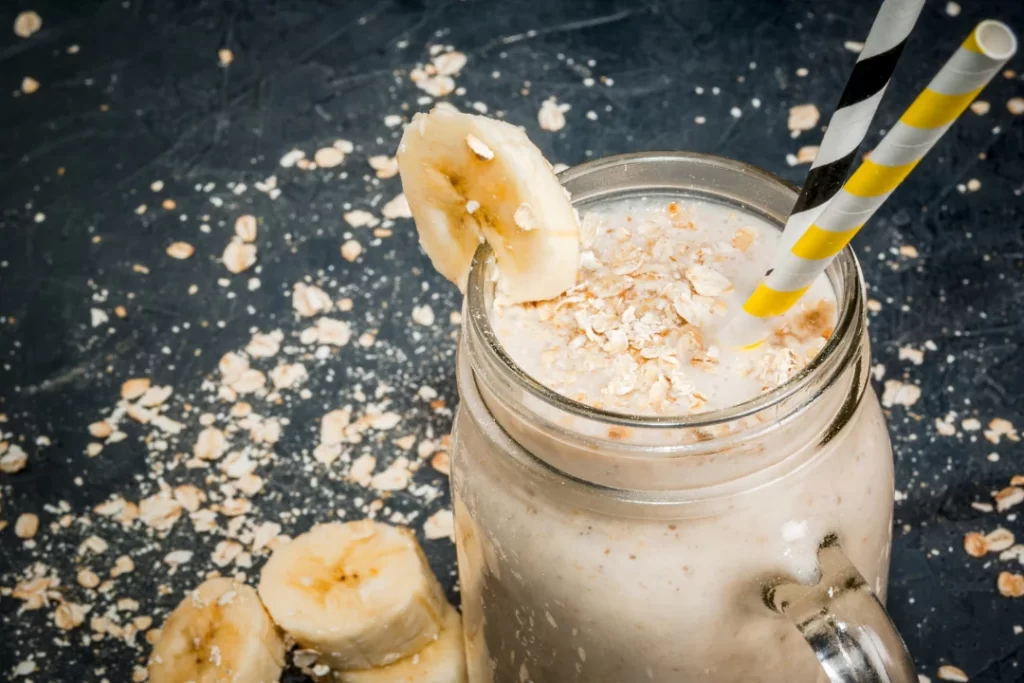 The right supplement can give your probiotic smoothie an extra boost
Each of these delicious, gut-healthy smoothies is enhanced with a dose of Belly Great, a standout probiotic supplement from Hello Health. Founded by CEO Pamela Wirth after her profound journey to heal her son's mysterious health issues, Hello Health offers research-backed products formulated for both adults and children. Belly Great's prebiotic and probiotic formula contains 15 specially selected strains plus vitamin D3 and methyl folate to support your gut, brain, immune system, and bones. Each capsule is vegan, sugar-free, gluten-free, lab-tested, and non-GMO.
When you begin to appreciate the profound benefits of maintaining a healthy gut microbiome, then you may search for simple ways to eat for gut health. Nothing could be simpler or more convenient than a delicious probiotic smoothie. Even better, adding the right supplement to the mix can give your smoothie recipe the extra edge it needs so that you can go from good health to great health. We hope you'll try some of these tasty treats.
Further reading:
Forbes: How To Improve Your Gut Health
The Guardian: Unlocking the 'gut microbiome' – and its massive significance to our health
The New York Times: Keep Your Gut Healthy and Your Skin May Follow
Important Note: The information contained in this article is for general informational purposes only, and should not be construed as health or medical advice, nor is it intended to diagnose, prevent, treat, or cure any disease or health condition. Before embarking on any diet, fitness regimen, or program of nutritional supplementation, it is advisable to consult your healthcare professional in order to determine its safety and probable efficacy in terms of your individual state of health.